Your Chaos. Your Control.
Infinite randomised ideas in seconds
Regular price
Sale price
$41.00 USD
Unit price
per
Black Friday Sale
Sold out
VST3/AU | Generate infinite, randomised MIDI with advanced control over groove, melody, dynamics and epic CC manipulation in your DAW
View full details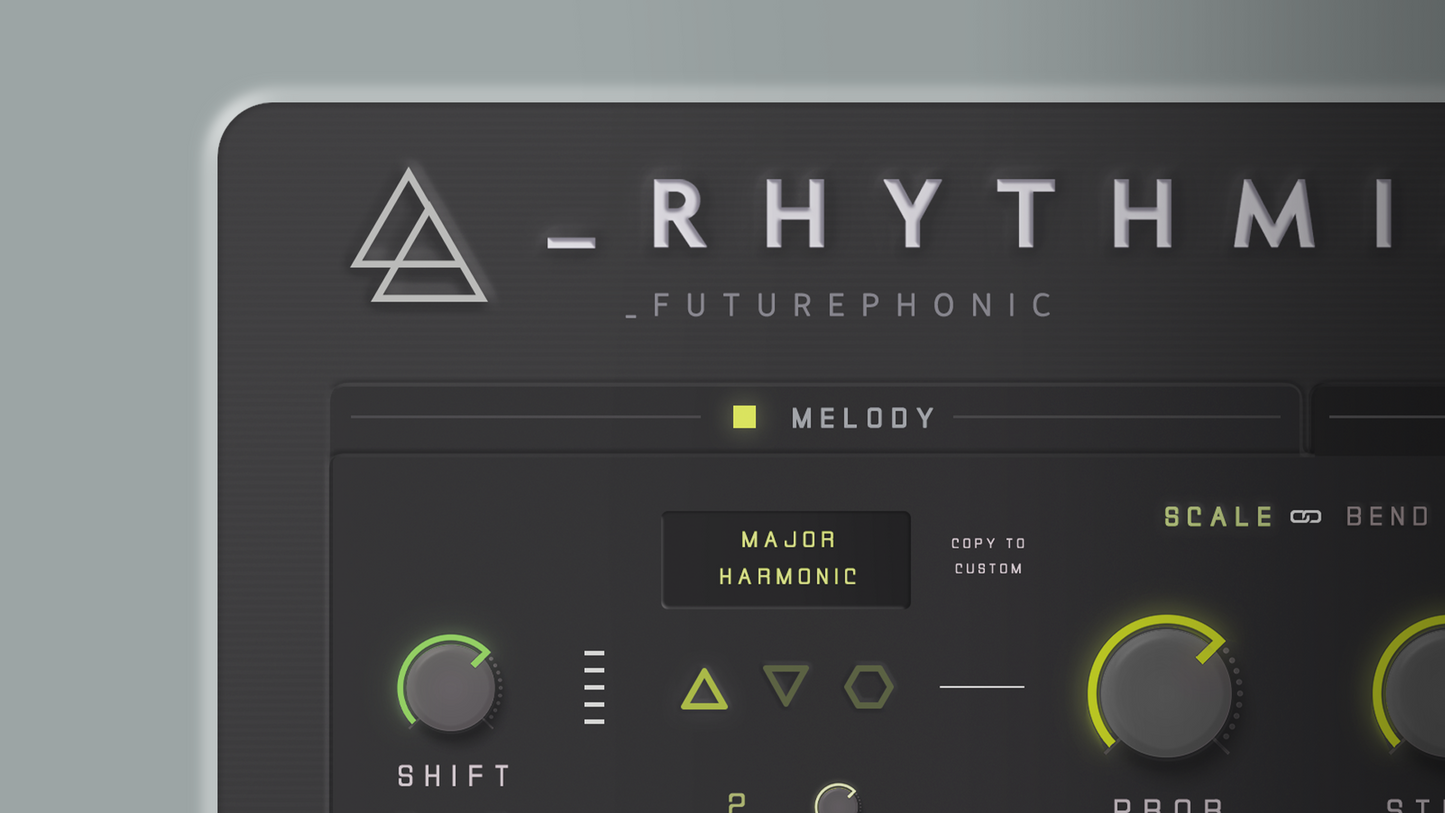 A single note, a universe of sound.
1 | Draw a MIDI Note

Feed Rhythmizer a single note in your key of choice to process in realtime

2 | Tweak the flow

Get busy in a playground of melodic, rhythmic and modulation options

3 | Let it Fly

Rhythmizer generates infinite random ideas to your settings. Record to MIDI or audio to edit further.
● Generates infinite randomised MIDI
● Tweak scale and rhythm probabilities including custom scales
● New: Generate harmony with Poly Stack mode
● New: Ergonomic Step Sequencer
● Advanced LFO pitch bending with Bend Mode
● Random gating and velocity
● MIDI Loop button!
● Assign randomized MIDI CC messages
● Some DAW limitations - check compatibility at bottom of page
Custom Scales

Choose from an extensive list of built-in scales or build your own in any key. The Chroma scale works perfectly with samplers - the device will choose sampler cells at random.

Poly Stacking

Turn single notes into chord-based polyphonic journeys, adding layers of harmonic complexity to transform melodies into electric, scale-focused soundscapes

Step Sequencer

Want to keep things to your groove? You'll love the ergonomic new step sequencer, including our Random Step slider!

CC Mapping

Map randomized CC to virtually any synthesizer parameter with four dedicated map slots, offering precise, real-time modulation for unparalleled control of your synth's architecture.
Map and control any synth knob
Build harmony with Poly Stacking
Capture instant MIDI loops
Record and edit

Rhythmizer Ultra is merely a starting point. It fires infinite random ideas and inspiration for your curation.

Record the device's output to MIDI and keep editing in your DAW.

Ready to rock

Mac and PC users, everyone's looked after - Rhythmizer comes in VST3 and AU.

The device is compatible with almost all major DAWs (check compatibility below) and can send MIDI to anything that receives it: your synths, samplers...even hardware!

CPU Optimised

Open up as many instances as you like - you'll barely see an effect on your CPU. In testing, opening ten instances at once barely hit 1% draw.
Sounds great, what do I get inside?
Collapsible content
Device Summary

Rhythmizer generates infinite random notes from one long MIDI note.

Dial in chance-based randomness for groove, melody, velocity and note length plus CC mapping. Push to new levels with Poly Stacking and a step sequencer.

Please check DAW Compatibility (below)
Contents

Rhythmizer Ultra VST3 / AU

• PC and Mac installers

• Compatible for most DAWs and MIDI devices - see compatibility section below

• MIDI Maps for Serum, Diva, Pigments and Vital

• Comprehensive Manual

• Customer-stamped PDF
Check DAW Compatibility

System

Windows 10 / Mac OS 10.11 or higher (inc M1)

DAW

Rhythmizer is compatible with a wide range of DAWs that support MIDI routing between channels and the VST3 format.

We've optimized it for integration with major DAWs like Live 11, Cubase, Logic, FL Studio, Bitwig, Reaper, and Studio One.

Additionally, we have many satisfied customers using Rhythmizer successfully in other DAWs as well.

Known Limitations

FL Studio does not support Bend Mode at this time

We recommend Live 11, as Bend Mode and CC Mapping are not supported in Live 10, and Live 9 does not support VST3 at all.

Reason is not compatible with Rhythmizer due to its lack of essential MIDI re-routing capabilities.

While Rhythmizer operates flawlessly in Bitwig for most functionalities, the DAW's architecture currently does not support Bend Mode.

• Rhythmizer is not available for Pro Tools at this time.
As Always

✔ Instant Digital Download

✔ 100% Royalty-free

✔ Own for life 

Please note VAT is applied to all EU purchases by law and varies depending on the country of purchase. As per our terms and conditions, we cannot offer refunds on digital downloads as they cannot be returned. We also do not offer support for users of cracked DAWs.
Cre8tive Tool
It's such a fun to create new Melodies or Beats from scratch. I use it in Abeton Live 11. The Ultra Mapper is easy to use. Good job👌
Cant find trial
Ver interested to demo but cant find a trial?
Hey LV, the free trial is available on the product page - likely the same page you're reading this reply :-)
Futurephonic
Thanks Asaf, glad you're enjoying it!
Futurephonic
Really great
Amazing, particularly for the price, love it!
Thanks for the review, Sam, glad to hear it!
Futurephonic
Funktioniert nicht unter Cubase Elements 13
Sorry, aber unter Cubase Elements 13 scheint dieses VST nicht zu laufen. Aktuell vermute ich 48 Euro für "Nichts" ausgegeben zu haben... schade...
Hallo, we'd be glad to help you get Ultra working! Please give us a shout via the contact form. We're here to help.
Alex
Futurephonic
The bottom line.
If you're all about pushing boundaries and love a bit of controlled chaos in your tracks, this is your next studio upgrade. Ultra's built to take your randomness game to the next level - think endless grooves, controllable yet unpredictable melodies, and some serious MIDI CC wizardry. 
Try Rhythmizer Ultra to bring a controllable layer of random-generated adventures to your next track.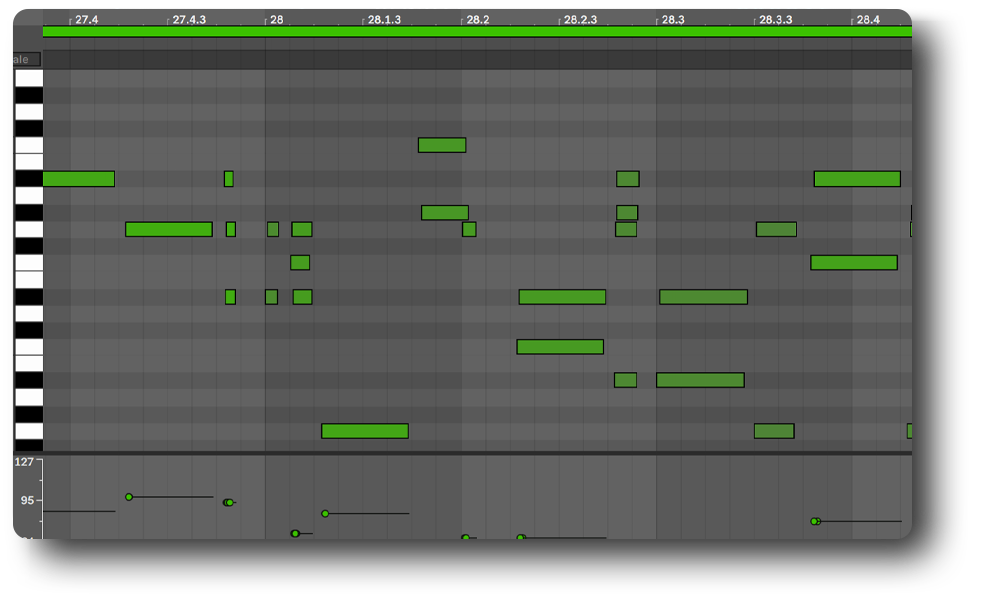 Try the demo
Want to give it a spin before buying? Download the fully-functional demo here
Download Free Demo
Choosing a selection results in a full page refresh.
Opens in a new window.